Mission
To foster and maintain a thriving business climate in which its members and community can grow and prosper.
Vision
To be the preferred advocate and recognized voice of business in the greater Hagerstown-Washington County, Maryland area.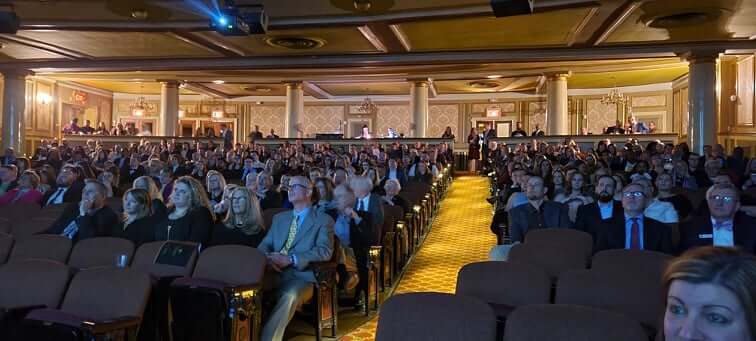 Joining the Washington County Chamber of Commerce is an investment in the health and well-being of Washington County. We work to protect the investment you have made in your business.
The private sector is the driving force of any prosperous community, AND a community must have an excellent quality of life for its private sector to be fully successful. Since its founding in 1919, over one-hundred years ago, the Washington County Chamber of Commerce has focused on helping to create and support a prosperous private sector and a thriving community. We work on your behalf, every day, so you can focus on running your business.
Your business can benefit from the chamber's stellar reputation. In a study done by the Shapiro Group and Market Street Services, they found that when someone knows a small business is a member of its local chamber of commerce, they were "44 percent more likely to think favorably of it and 63 percent more likely to purchase goods or services from the company in the future."
The Chamber is led by an elected volunteer Board of Directors and a paid staff. Its work is supported by a network of committees made up from its membership. The Board sets broad policy, the committees help to plan events and programs, and the staff executes the overall operation.
The chamber represents you in Annapolis. We fight for you and for the well-being of your business, as stated in our values:
Leadership and Advocacy – We are dedicated to the growth and success of our business community and the local economy. We will advocate for pro-business policies while protecting our vital resources.
Innovation – We are future focused, creative, and responsive to emerging trends and changing member needs.
Collaboration – We value the diversity of our business and nonprofit community and encourage participation, inclusion, and collaboration.
Connection – We connect people, community, resources, and commerce.
Empowerment – We encourage and support our members' personal and professional growth through shared resources and educational opportunities.
Diversity – We embrace, promote, and celebrate diversity in our community.
The Day in Annapolis reception, where elected officials are invited to learn about Washington County. 
Washington County Chamber of Commerce members include more than 625 organizations, representing over 40,000 local jobs in a wide variety of industries: Retail, Manufacturing, Healthcare, Skilled Trades, Service and Hospitality, Technology, Government, Nonprofit, and Education.