about the chamber foundation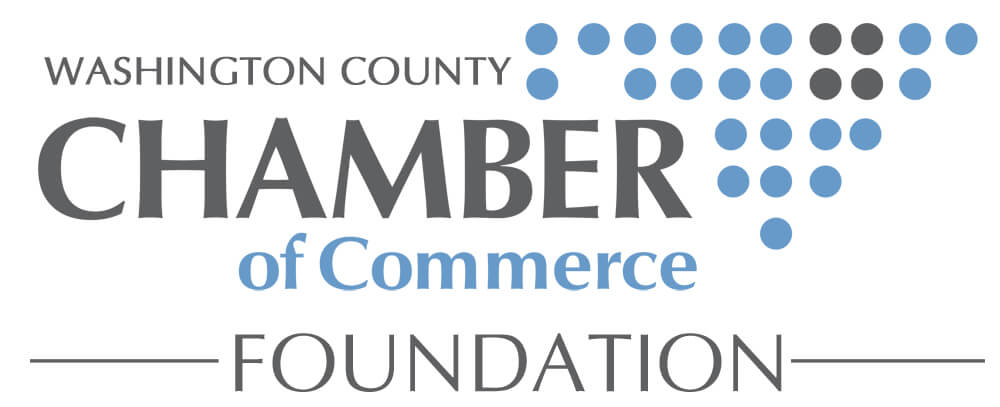 The Washington County Chamber of Commerce Foundation, Inc. is organized for the purposes of encouraging the growth of the community and enhancing the quality of life for all of its citizens and in furtherance of such goals it shall:
Promote economic growth.
Improve educational opportunities and civic awareness by the undertaking of studies and research, the conduct of training courses, seminars, lectures, forums, and the establishment of discussion groups.
Foster economic and social stability through full employment and the maximum use of available human resources.
Support constructive planning and development and the establishment of community goals.
Oppose community deterioration, strive to eliminate prejudice and descrimination, and to discourage crime including, but not limited to, juvenile delinquency.
Recognize the efforts of individuals, businesses and groups to achieve the foregoing aims.
The Washington County Chamber of Commerce Foundation, Inc. is a separate private, tax-exempt 501(c)(3) organization that supports the mission of the Washington County Chamber of Commerce. Established in 1984, the Foundation plans, develops, and executes education-related programs that enhance the Chamber's work.
WHAT DOES THE FOUNDATION DO?
In partnership with the Maryland Department of Commerce and WCPS, the Chamber Foundation supports Washington County businesses participating in the youth Apprenticeship Maryland program.
High school students begin working at a chosen employer in the apprenticeship program during the summer after their junior year and then continue working throughout their senior year, for a minimum of 450 hours while simultaneously receiving related education training at their high school. The students are mentored with on-the-job training by employers that are in high demand and quickly growing industries. The apprenticeship program is beneficial for businesses because it develops a pipeline of highly-trained individuals to hire, which could lead to safer work environments and easier succession planning. The Chamber Foundation financially assists Washington County businesses with costs associated with the program.
Since 2016, the Chamber Foundation has donated $33,000 to businesses involved with this program.
Businesses that have participated in the program include:
Beacon Grace
Bikle Manufacturing
Hub Labels
Beachley Furniture
Beachley Millwork Company
Custom Machine
ABC Cumberland Valley
Washington County Division of Environmental Management
Toothman Orthodontics
DVF Corporation
Caldwell Manufacturing
Washington County Museum of Fine Arts
Hagerstown Children's School
L.S. Grim Consulting Engineers
The Chamber Foundation has also supported a financial literacy program, called Cash 'N Dreams.
The Washington County Chamber of Commerce, working with a number of community partners, created a "Cash N' Dreams" program to help teenagers achieve financial empowerment. The program consists of six three-hour monthly sessions. Topics include budgeting, saving for emergencies, saving for retirement, how to start a business, responsible credit card use, and how to leave a legacy to family and community. Each session is supported by guest entrepreneurs discussing their respective personal and professional financial empowerment journeys.
Community partners include:  First United Bank, CNB Bank, F&M Trust, Washington County Public Schools, Hagerstown Community College, San Mar Family & Community Services, and Cherish McMillan.